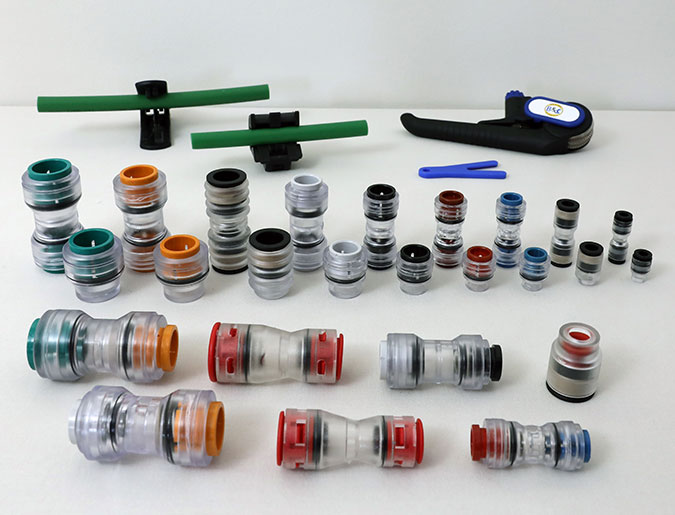 From 5 mm to 18 mm, we carry a full line of connectors, caps and transitions to connect and/or cap off your microducts.
Couplers are color-coded for your convenience.
Tested to exceed the stringent requirements of CENELEC EN 50411-2-8:2009 Standard for Micro Duct Connectors.
All sizes come in case qty of 25.
| Description | Tip Color | Part Number | Case Qty |
| --- | --- | --- | --- |
| 5MM Caps | Black | BCA5MCAP | 25 |
| 5MM Couplers | Black | BCA5MUCS | 25 |
| 7MM Caps | Black | BCA7MCAP | 25 |
| 7MM Couplers | Black | BCA7MUC7 | 25 |
| 8.5MM Caps* | Blue | BCA8.5MCAP | 25 |
| 8.5MM Couplers* | Blue | BCA8.5MUC8.5 | 25 |
| 10MM Caps* | Red | BCA10MCAP | 25 |
| 10MM Couplers* | Red | BCA10MUC10M | 25 |
| 12MM Caps* | Black | BCA12MCAP | 25 |
| 12MM Couplers* | Black | BCA12MUC12 | 25 |
| 12.7MM Caps* | Gray | BCA8CAP | 25 |
| 12.7MM Couplers* | Gray | BCA8UC8 | 25 |
| 14MM Caps | Black | BCA14MCAP | 25 |
| 14MM Couplers | Black | BCA14MUC14 | 25 |
| 16MM Caps* | Orange | BCA16MCAP | 25 |
| 16MM Couplers* | Orange | BCA16MUC16M | 25 |
| 18MM Caps* | Green | BCA18MCAP | 25 |
| 18MM Couplers* | Green | BCA18MUC18M | 25 |
| 22MM Couplers* (Coming Soon) | White | BCA22MUC22M | 25 |
Transition Couplers
| Description | Tip Color | Part Number | Case Qty |
| --- | --- | --- | --- |
| 10MM/8.5MM* Coupler | Red/Blue | BCA10MUC8.5M | 25 |
| 12.7MM/12MM* Coupler | Gray/Black | BCA8UC12M | 25 |
| 14MM/12MM Coupler | Red/Red | BCA14MUC12M | 25 |
| 16MM/12.7MM* Coupler | Orange/Gray | BCA16MUC8 | 25 |
| 16MM/14MM Coupler | Red/Red | BCA16MUC14M | 25 |
| 18MM/16MM* Coupler | Green/Orange | BCA18MUC16M | 25 |
Gas Blocks
| Description | Tip Color | Part Number | Case Qty |
| --- | --- | --- | --- |
| 14MM GAS BLOCK | Red | BC6274 14 00 | 25 |

  * ITEMS MARKED WITH (*) ARE MADE IN AMERICA    


* ITEMS MARKED WITH (*) ARE MADE IN AMERICA