Micro Ducts Mouting Brackets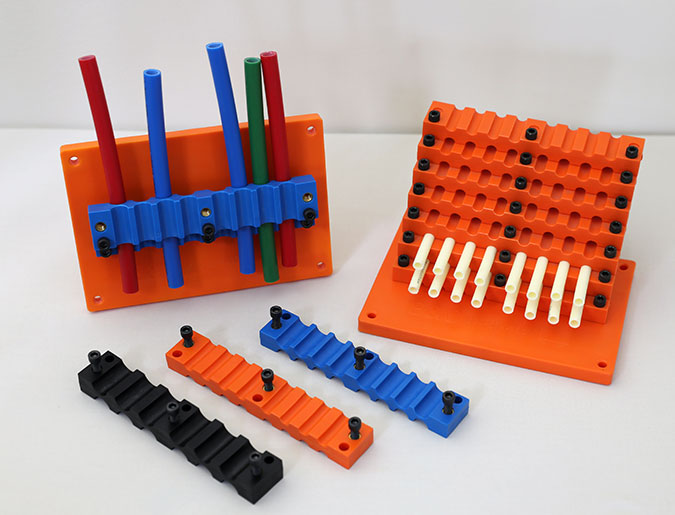 Micro Ducts Mounting Brackets
At the MDU locations, Micro Duct Brackets secure the Micro-Ducts and keep them organized.
B&C manufactures a bracket system that will securely hold the Micro-Ducts in place and avoid possible damages or even fiber breakage. 
Depending on your specific project applications, you can choose from 12.7mm (Blue bracket), 8.5 mm (Orange bracket) or 16mm (Black bracket) Micro-Ducts Mounting Bracket.  The brackets work with both the Riser and Plenum rated Micro-Ducts.
Modular system, grow as needed
Order only what you need, add on in the future.
12.7mm and 8.5 mm brackets hold 8 Micro-ducts securely in place.
16 mm bracket holds 6 Micro-ducts securely in place.
First bracket comes already mounted to the base plate (Orange)
No special tools required, just a 3/16" Allen Wrench needed to assemble and disassemble the Mounting Bracket
| Micro Duct Mounting Bracket | Quantity per Box | Part Number | Color |
| --- | --- | --- | --- |
| 8.5mm Mounting Plate w/1 Bracket | 1 | 2246 | Orange/Orange |
| 8.5mm Mounting Bracket w/3 screws | 1 | BC2244 | Orange |
| 12.7mm Mounting Plate w/1 Bracket | 1 | 2247 | Orange/Blue |
| 12.7mm Mounting Bracket w/3 screws | 1 | BC2245 | Blue |
| 16mm Mounting Plate w/1 Bracket | 1 | 2248 | Orange/Black |
| 16mm Mounting Bracket w/3 screws | 1 | BC2250 | Black |

   EVERY PIECE IS MADE IN AMERICA    


EVERY PIECE IS
MADE IN AMERICA